A New Method For Finding Profitable Keywords
OH GREAT.  ANOTHER KEYWORD TOOL? That's probably what you are thinking right?
Why should you even bother looking at Keyword Supremacy when there's literally tons of
other great keyword research tools? Some of which you might already even own!
Trust me, we're with you, we get it!
We already know there are tons of other keyword tools available on the market. Don't forget, that before we were ever developing software products, we were actually doing SEO ourselves and used almost every keyword tool on the block at one point or another, like these ones just to name a few:

The point is, we know what makes a solid keyword tool because
we actually do SEO and that means we've done our fair share of keyword research.
So knowing that, don't you think we would
literally be the two dumbest guys on the planet…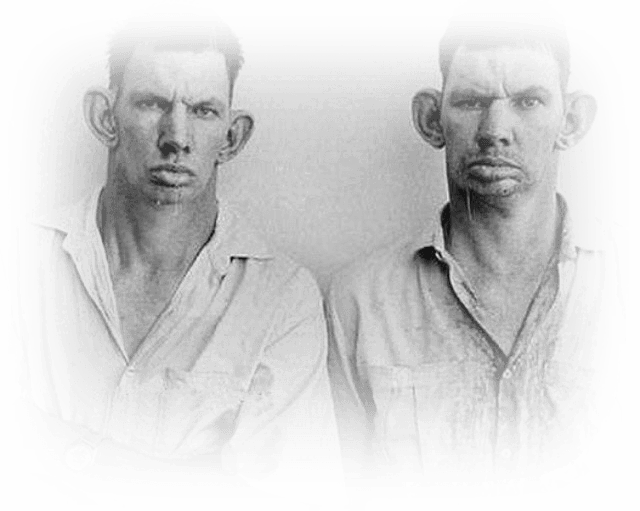 …to release yet another keyword tool, to an over-saturated market, that simply repackaged the same old shit that's already out there? Ya, we would be a couple of chumps…if that's what we did.
But we're not dumb, and that's not at all what we did.
We carefully thought about all of that before we ever started down this path. I mean, the time and costs involved to build Keyword Supremacy was massive and the risk of losing it all was simply too huge to mess it up!
So in order for us to have even the slightest chance of successfully penetrating this market, we needed to make sure that our tool was going to be so fundamentally superior to the other Keyword Tools out there, that it absolutely had to make you stop and at least take a look.
We had to rethink Keyword Tools and Keyword research all together and build it from the ground up using our combined 40 years of SEO knowledge and experience.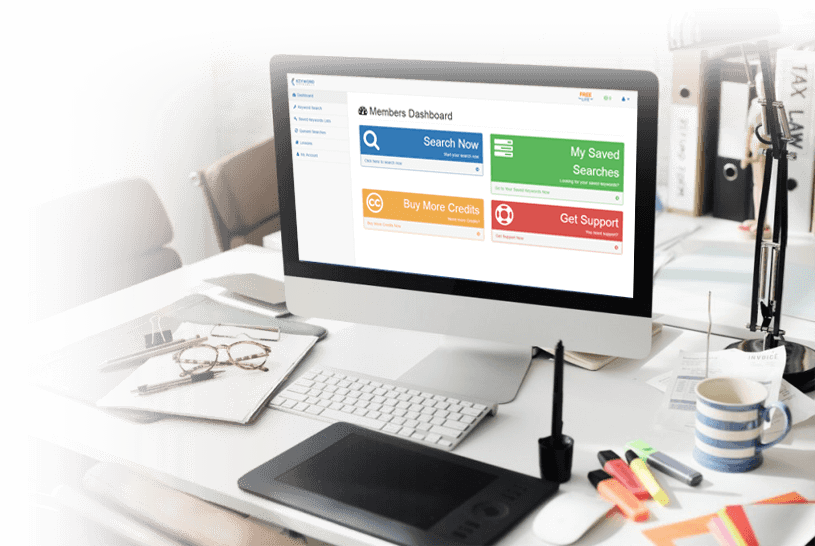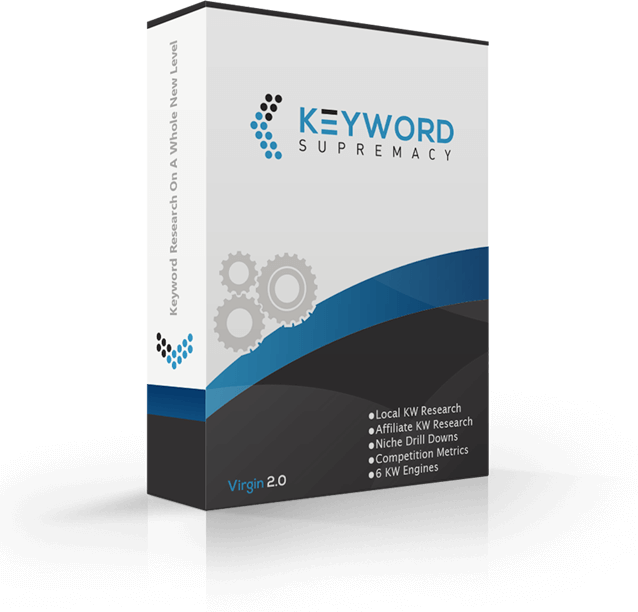 If you haven't heard of us…
Our names are Herc Magnus and Todd Spears. We been there done that when it comes to SEO! We have almost 40 years of combined Internet Marketing & SEO experience. We actually make money from the methods we teach, and that why we believe we were qualified to not only build this tool, but know how to make it work for you!
So, now that you know a bit about us, let's chat about what makes this tool so different and why it actually took two SEO's to finally get together to create a keyword research tool on a whole new level.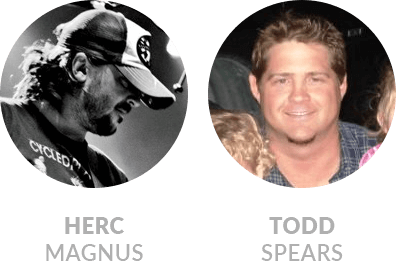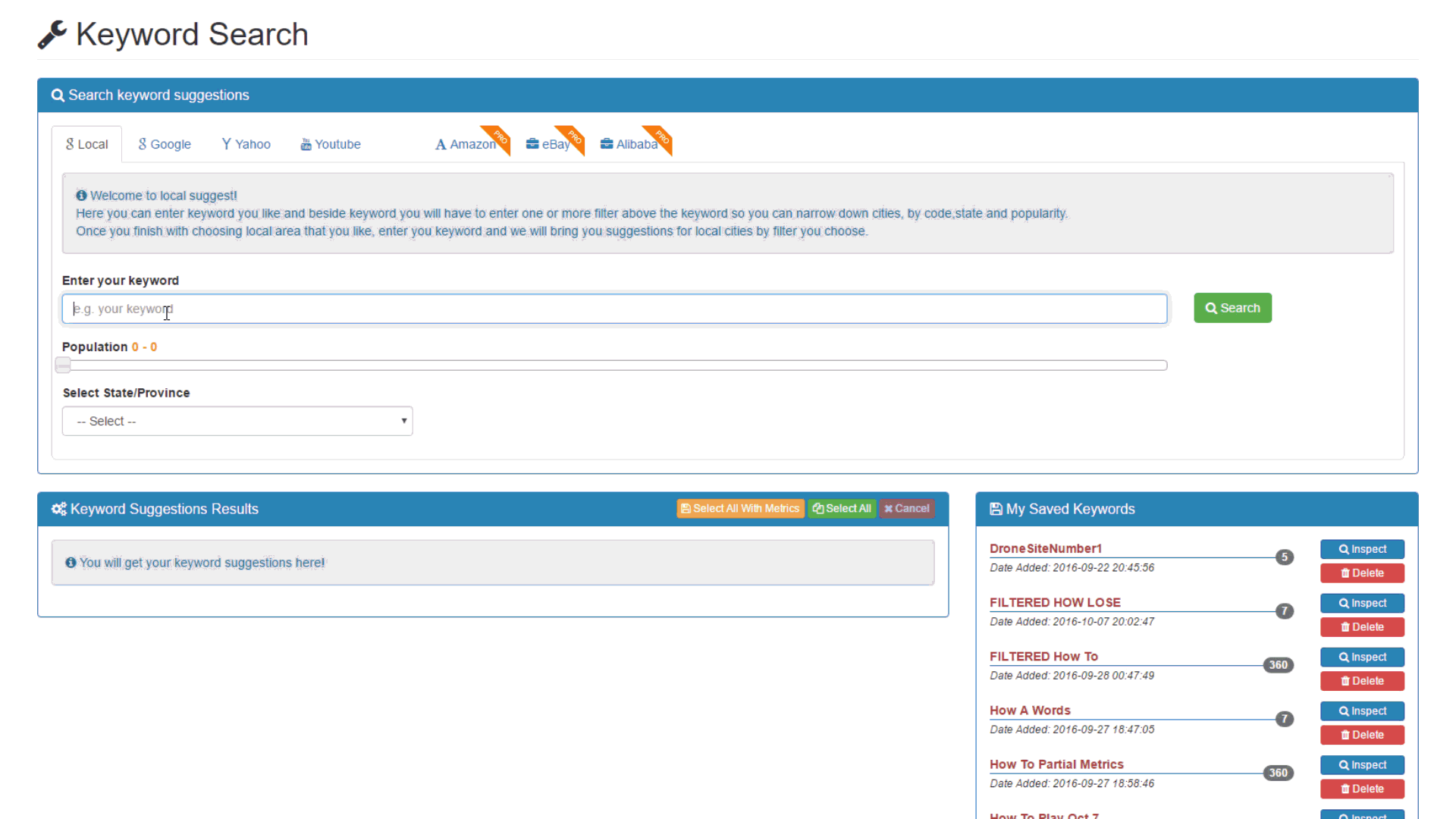 What Other Keyword Tool Does This?
From the list of keyword research tools we listed above, can you think of just one of them that caters to local keyword research?
I'm talking about the the "pool resufacing phoenix" and "spray foam insulation edmonton" type of searches that are literal gold mines to local SEO's? None of them do it like we do it. Sure you can pop in a list of cities and keywords, then use some sort of script to combine them then run them through a metrics checker. I guess that works okay, but it's kind of a pain in the ass and slow.
But what about suggesting new keywords in local markets? Can they do that? We can!
What about side by side comparisons of your search metrics to the populations of the 1000's of cities and towns across your area ? They don't do that, do they?
We painstakingly built a database of every town and city across the US and Canada (using 2015 census data) and combined that with our suggest feature to give you the ability to uncover hidden local keywords that no one else is even thinking of that you can target on your sites pages and posts resulting in a 10x of traffic to your sites.
It honestly amazes me that no one has thought to do this yet. Or maybe it's just a case of they have thought of it, and haven't had the ability or time to get it done. Well we did it.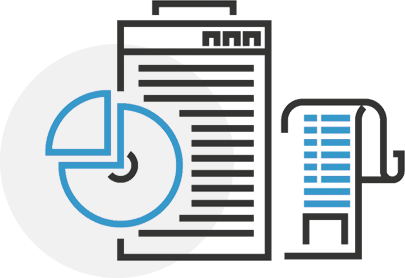 That Just Doesn't Quit
Ok, so Ubersuggest and Keyword Shitter caught on to the extremely smart aspect of collecting the search suggest keywords.
You know… the keywords that appear as you start typing your search. And that was super smart!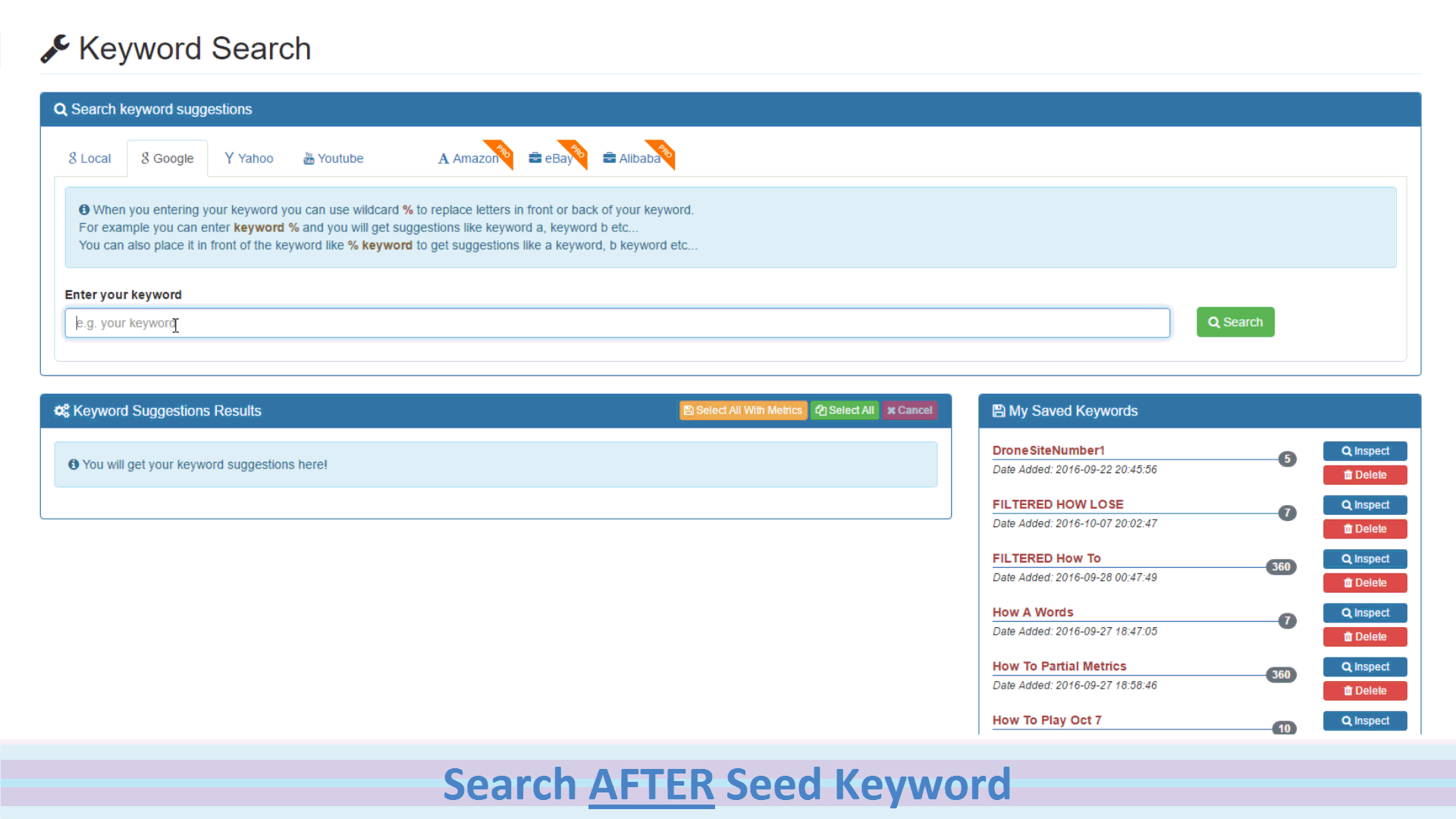 Did you know that those keywords are the most relevant and searched keywords at 'this point and time' which is why these are the ones being displayed to you? But trends change, and so does the search suggest making it a timely and constantly evolving gold mine of keywords you should be targetting! With those tools, you only supply the root keyword and it will search the suggest
based on an A-Z & 0-9 after the main keyword. Kind of like this.
Get suggestions AFTER your root keyword like this:

We can also suggest BEFORE the keyword like this: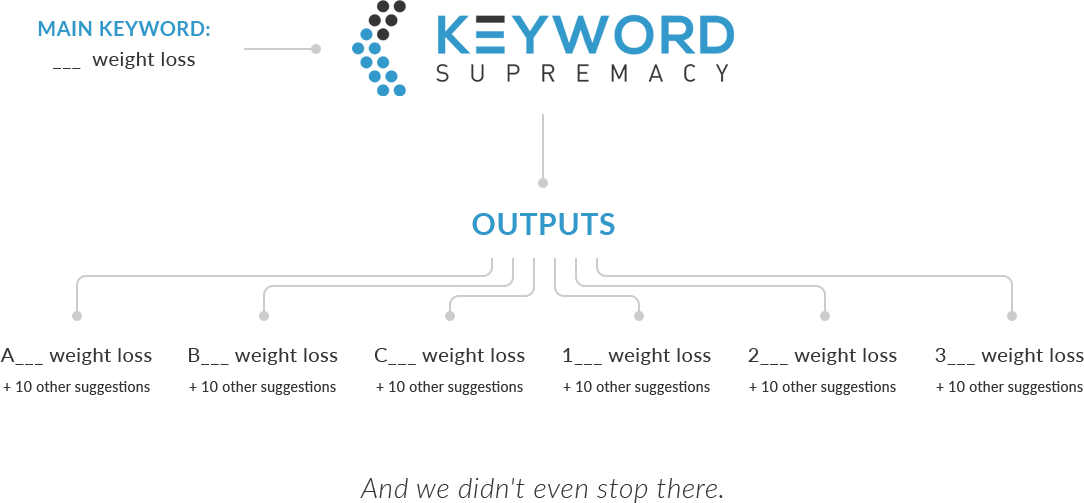 We can also search in the MIDDLE like this:

And finally if you really want to dig deep with a keyword, you can actually search beside any letter that you love to get all 370 suggestions in the same letter or number group!

Doing it that way will give you over 360 keywords that start with the words "weight loss" but the third word will only ever start with the letter A! Crazy right? So we're literally smoking the competition with the way we can find search suggest keywords because we can scrape in 4 different ways: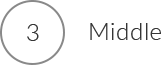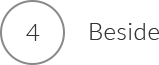 And beside in combination with any of the first 3.
Talk about unlimited opportunities!
But we're STILL not done… We can also perform the 4 types of search suggestions on 4 most important search engines.

Now… what good does a long ass list of keywords do you, without any way to filter out all the crap
from the good stuff with metrics, right? Which brings us to…
…the 'Gold Sluice' of mining for profitable keywords…
Well we give you all those keyword suggestions plus all the killer metrics that the other 'big boy' keyword tools do. You'll get 360 suggestions for each search plus all the following metrics for every keyword: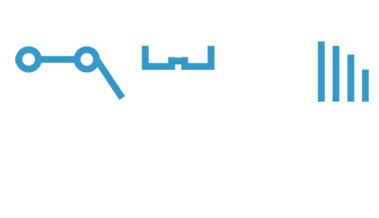 Top 10 Data Analysis for each keyword

Domain name availability in multiple types! .com, .net. .org, .ca, .com.au, .co.uk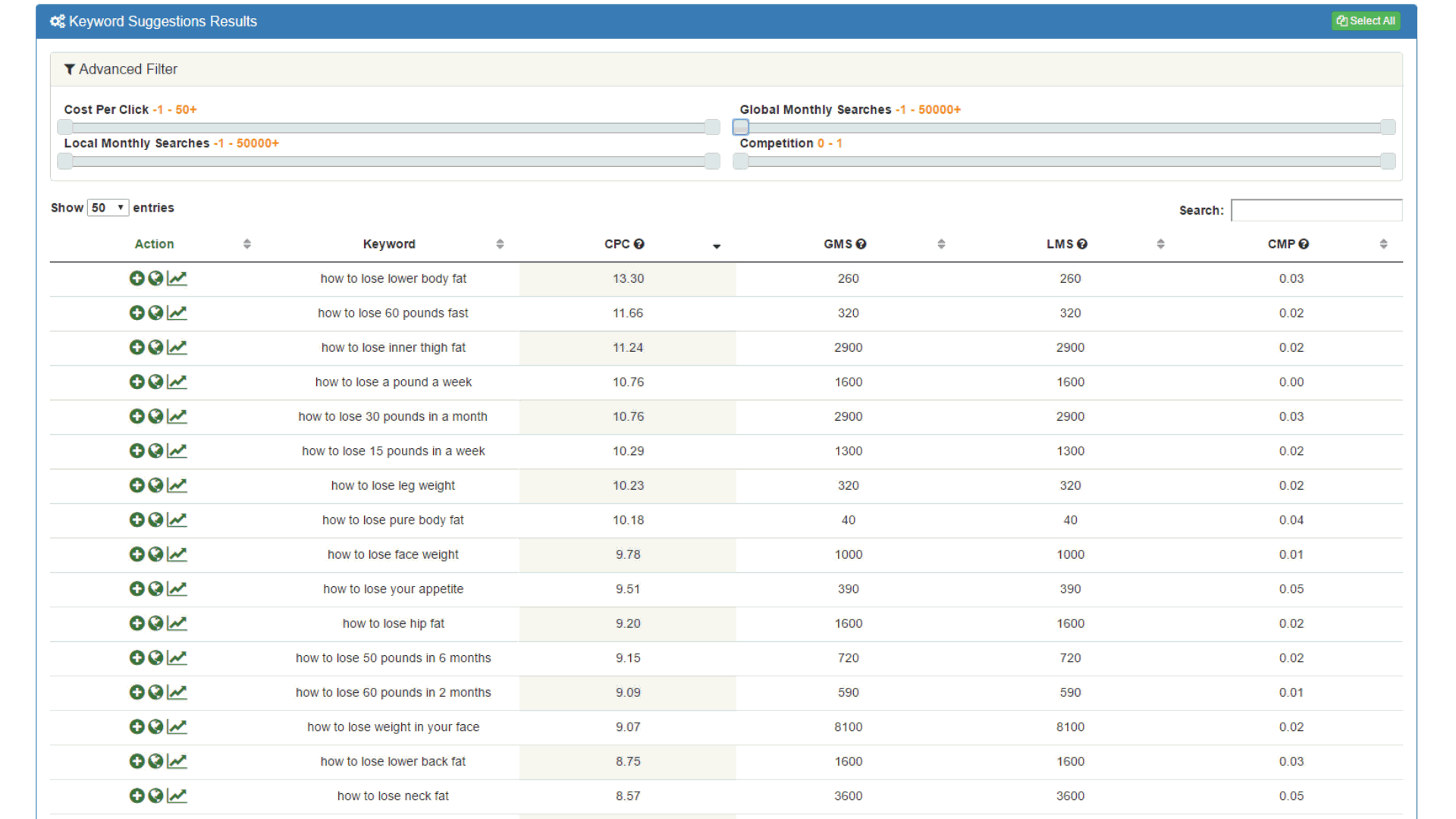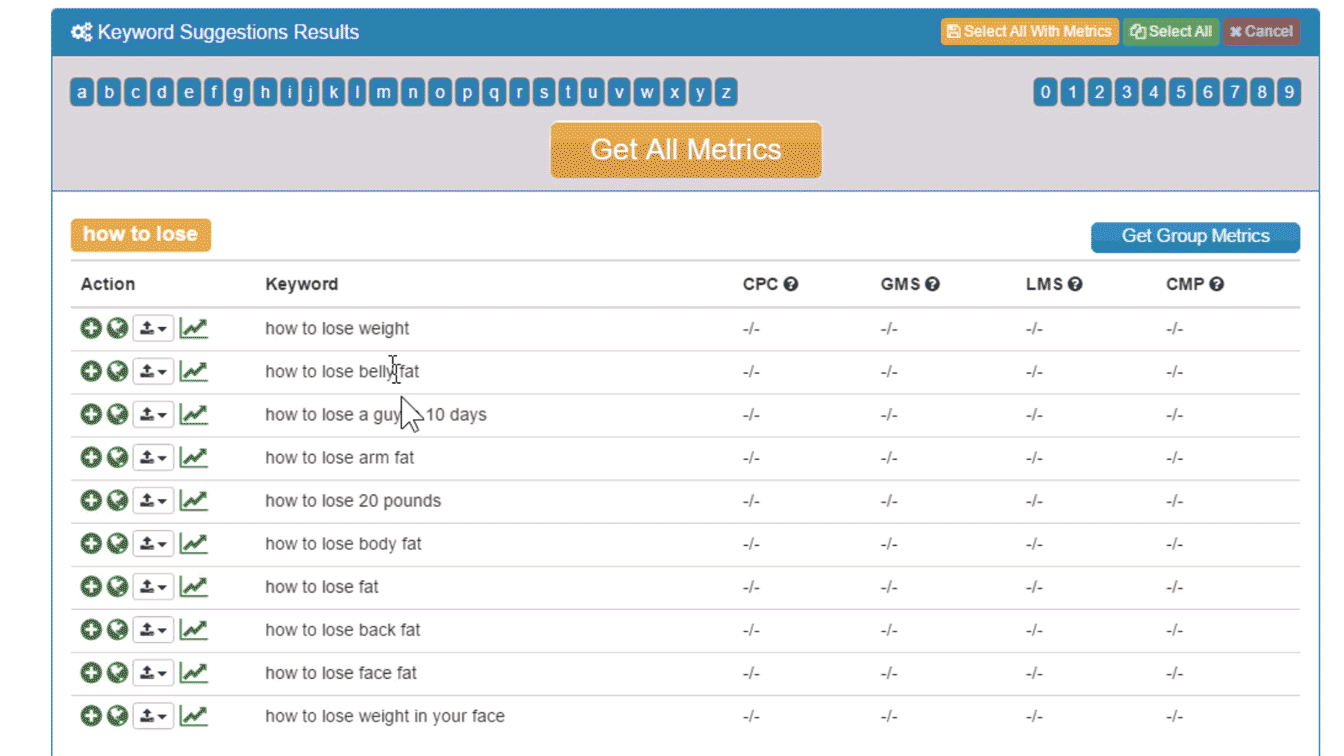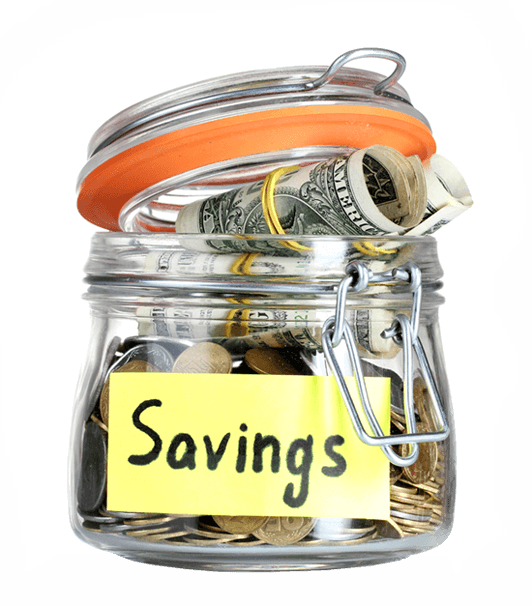 We Have Fair Usage Pricing!
Now remember, you can get started with a free account and get all the keyword ideas you've ever dreamed of!  But if you want to get metrics for the keywords, you'll have to buy some credits.
But We Saved The Best Part For Last, Not Stealing Your Money!
Most keyword tools set a monthly price for your use and it doesn't matter if you only use it a handful of times. You still get charged the full amount. We didn't really like that.
It's like being locked into a cell phone contract and your 400 minutes of talk time expire, evaporate, disappear at the end of the month. Well new companies started selling the feature of roll overs, meaning that any unused portion of your minutes would automatically "roll over" into your next month so you could still use them.
And that's great, but they still got you on your monthly "refill" quota don't they? They make their money either way. That's really the same as most recurring priced keyword tools. They are out to make more money from you, not sell what's fair.
Well with Keyword Supremacy we took the best of both worlds.
We NEVER Charge Monthly Recurring Charges, YUCK!
But We DO Offer Roll Over!
With Keyword Supremacy, you buy a package of search credits, and they NEVER EXPIRE until you use them up. Then when you exhaust your credits, you simply buy another NON-EXPIRING package!
So basically, you will only ever pay for what you use and nothing else!
How far do your credits 'really go'?
So at this point you might be thinking…
"OK what does 1 credit actually get me once I'm inside the system?"
Well when our system suggests 360 keywords for you from a seed search, it will only ever cost you 1 credit to get ALL of the metrics for ALL of those keywords. You remember what our metrics were don't you? Here's a reminder.
Top 10 Data Analysis for each keyword

Domain name availability in multiple types! .com, .net. .org, .ca, .com.au, .co.uk
You get all that ridiculously useful data (that you can also save forever by the way), for around the cost of a shitty cheese burger at Rotten Ronnies! What do you get for that by the way? 😉
We also have smaller credit options that allow you to grab less keywords for less credits, or even get data twice as fast for an extra credit.
Search For As Many Keywords &
Save As Many Keyword Lists As You Want.
NO CREDITS Will Be Deducted For Keyword Searches
Our Tool Only Charges Credits When You Grab Metrics;
Search Volume, CPC & Comp
The point is, we are flexible, fair and affordable!
So Start Finding Your Own
GOLDEN 'KEYWORD NUGGETS' Right Now
And FORGET about the days of paying to much money
for keyword tools that can't do even half of what this one can do!
Now that you know everything there is to know about Keyword Supremacy, there's nothing left to do but pick the package that suits you the best! And of course we have a credit package for every budget because we get it…
You need money to make money!
But in order to make money, you need the right tools at the right price…
and Keyword Supremacy is the tool!
You can be finding massively profitable keywords in as little as 2 minutes from now. Just pick your package and order. Your account will be set up automatically for you and your details will be emailed to you!
Look forward to seeing you on the inside!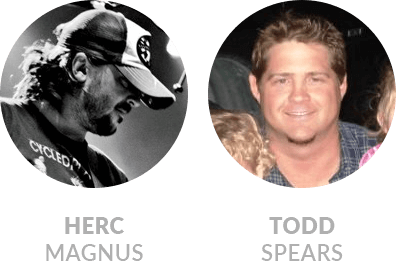 We Offer a Rock Solid 30 days
No Questions Asked GUARANTEE!
If you are unhappy with the tool for any reason, just issue a support ticket from inside the tool and your refund will be processed! Frequently Asked Questions? Sure, why not!
How About Some Techy Stuff For Nerds First?
Will My Credits Expire?
No! They never expire.
How Much Are Credits & Refills?
We offer 3 basic credit packages Spitzer 250 Credets for $197, Hubble 75 Credits for $97 & Keck 30 Credits for $47.  We even offer a massive fast action bonus credit package you can pick up in your first 14 days as a user.  Refill packages are same price as your initial credit pack purchase.  If you love this tool, get the credits as cheap as you can while you are in your first 10 days!
Are There Monthly Recurring Fees?
No! You only buy the package that is right for you and do not worry about recurring charges.
What Does 1 Credit Really Get Me?
1 credit will get you the metrics for up to 1000 keywords including Search Volume, CPC, Advertiser Competition, Top 10 Competition & Domain Name Availability Check!
Do I Need A Google Adwords Account To Get My Data, Like LongTailPro?
No! We use other sources to gather data that are more reliable than depending on your own Adwords account.
And Now For The More Nerd Wanna-be Types!
I'm Pretty New To SEO, Is A Keyword Tool The Right Place To Start?
Absolutely YES! Because every SEO knows that before they every build a website in hopes of ranking it in Google, they have to know what keywords to go after. If you don't have the right keywords to begin with, you are already deal in the water. Use Keyword Supremacy to find the nuggest that will start you in the right direction to profitable websites.
Do I Need Prior Keyword Research Experience To Get Good Results?
No! Hey comon, experience always helps. But with a tool this powerful, you literally do not even have to think because all the keywords we are serving you are what are fresh and popular right now! Even if you have no freaking idea where to begin, just hit GO and we'll start searching for you! But over time, your golden senses will develop and you'll better understand how to use the power that you bestowed open yourself!
Is There A Guarantee?
You bet! We give you 30 full days to use and abuse our Keyword Tool and find the nuggest you are seeking. But if during that time you don't think it's the best tool on the market, or you don't like us anymore, or your dog passed on and you are too sad to sit at a laptop, simply contact support and request a full refund! *please note that refunded accounts will be permanently deleted along with any stored search data.
Ok I'm Really Doing This! How Do I Get Started?
You simply need to create a free account by clicking the button below!  If you want to purchase credits to get Keyword Metrics, choose the package that suits your budget, and you'll be taken to our 100% Secure Checkout process where you'll fill in your payment information and contact details. Once your transaction in instantly approved, you'll receive your credits immediately into your account and you can start searching right away.